Research and development
JIWET carries out research on issues concerning advanced technology independently, the development of new technology in cooperation with local public bodies and private enterprises, and investigation entrusted by the central government to support state policies. Via those activities, it is working on the solution of a variety of issues in sewerage services. In recent years, matters concerning the evaluation of the appropriateness of technology have been increasing. Therefore, in addition to taking actions targeting precise evaluation and further technological improvements, we are providing detailed technological advice and guidance to local public bodies that do not have many engineers with specific expertise.
Research topics for the solution of issues in sewerage services
We have been working on diverse research topics to solve any issues in sewerage services, including measures against earthquakes, prevention of flood damage from frequent torrential rain in urban areas, anti global warming by using sewage sludge as an energy resource and the treatment of aging facilities.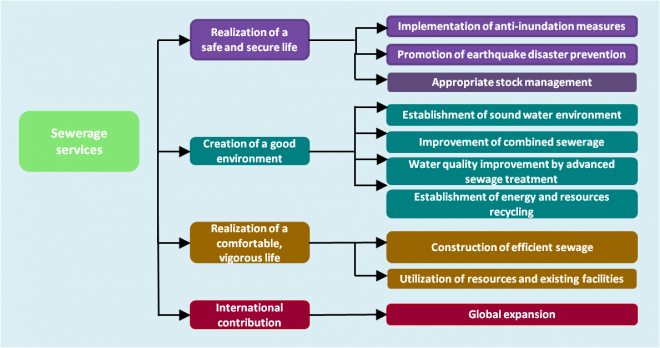 Dissemination of outcomes.
To solve issues in sewerage services and thereby contribute to society, it is essential to disseminate the results of R&D activities and technology assessment widely, not only to the relevant enterprises but also to society as a whole. As a "technology link-up", JIWET has been collecting information about wastewater treatment technology from all over the world as well as within Japan, and promoting information sharing by utilizing web sites and by publishing journals, Annual Report of JIWET, etc. Via those dissemination activities to share information worldwide, it aims to solve issues in similar cases.
Training and education.
JIWET communicates its R&D outcomes by setting up various occasions such as poster sessions by the Sewerage New Technology Research Institute, lectures for the utilization of engineering manuals, seminars for new wastewater engineering technology and on-site new engineering technology training. In this way, it contributes to an increase of engineers' technological knowledge. In recent years, it has also dispatched its staff to local communities all over Japan and held explanatory meetings and lectures that meet their individual needs. JIWET is thus spreading the fruits of its activities more vigorously and promoting their introduction to the sewerage services.